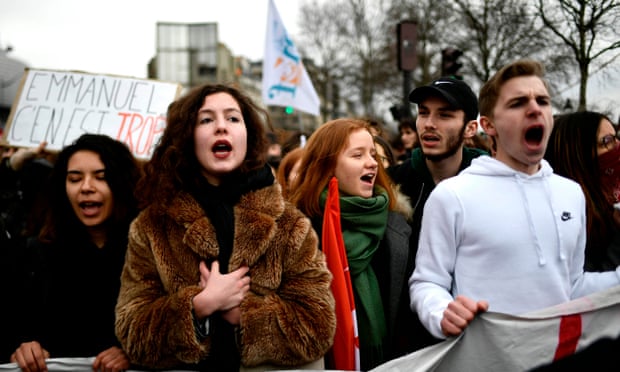 President Macron faces his biggest challenge as strikes and protests recall the epic struggle that rocked France to its core. We can win, insist this generation…
At Nanterre university, on the outskirts of Paris, militant students have a dilemma: how can they pass their end-of-year exams while simultaneously fighting to derail the French government's education reforms?
"It's a worry, but we'll find a way," says Annaël Lombe, a student union leader who is taking his political science finals in a few weeks. "Exams or not, we won't stop the protest. We will carry on the action."
Fifty years ago, Nanterre students issued much the same warning. It turned out to be far from an idle threat. Subsequent protests at Nanterre sparked the May 1968 civil unrest that drew 10 million students and striking workers on to the streets and brought France to a halt. It was a dramatic – some thought revolutionary –moment in French history that nearly toppled a government.
In the end, the protests fizzled out, but even now the events remain a model of how people power can rattle French political leaders and in doing so change society.[ . . . ]
READ FULL STORY at: THE GUARDIAN The spirit of 1968 rises again: can French students and workers triumph? | World news | The Guardian