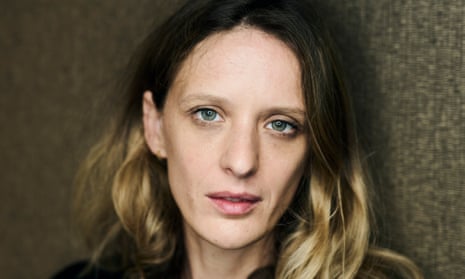 By Michael Hogan
The French director on making the closest thing to an autobiography, stripping Léa Seydoux of her glamour and dating fellow film-makers
French screenwriter and director Mia Hansen-Løve, 42, was born in Paris to parents who were both philosophy professors. She studied German at university, then had stints as an actor and film critic before making her directorial debut in 2007 with All Is Forgiven. Her subsequent films include Father of My Children, Goodbye First Love, Eden and Bergman Island. Her new film, One Fine Morning, is about a single mother caring for her ailing father while embarking upon a new romance. She lives near Paris with her partner, film-maker Laurent Perreau, and their children.
How closely was your new film, One Fine Morning, inspired by your own late father's illness?
All my films, in one way or another, use autobiographical elements. Or I should say biographical, because the majority are not inspired by my own story but those of people dear to me. But this one is probably the closest to a self-portrait. The character of Georg has the same disease my father had – a rare degenerative condition called Benson's syndrome. When I was writing the screenplay, he was still alive and I was visiting him, like Georg's daughter Sandra in the film. So those scenes were inspired by very fresh memories. I had the intuition that if I didn't write about it right now, I never would. If I'd waited, I wouldn't find the courage to turn back and look at these painful moments. But that's only half the inspiration. The other half is a new love, the rediscovery of happiness, and how to balance those simultaneous feelings of grief and joy.
You cast Pascal Greggory as Georg partly because of his physical resemblance to your father. Did that make it poignant at times during shooting?
It did, actually. I'd wanted to work with Pascal for a long time because he's a delicate, elegant, smart actor. But by chance, there is something about him that very much reminds me of my father. Sometimes it was very poignant and not just because of the physical resemblance. He also got deep into the character of my father and the nature of the disease. I recorded my father speaking and played it to Pascal. He truly seemed to understand his personality – including the way he stayed polite, even when he was losing his mind. I always found that overwhelming about my father. The last thing that he managed to preserve was his politeness. Pascal captured the feeling of who my father was. It's an extraordinary interpretation.
You wrote the role of Sandra with Léa Seydoux in mind, but wanted to strip her of glamour. Why?
She's super-sexy with incredible magnetism, but I wanted to undo that image. I aimed to portray Léa as more real and raw, so we could see deep inside her, beneath her exterior. So she wore casual clothes and had short hair. At first, she's a very regular person, then when she falls in love and starts this passionate relationship, we rediscover her femininity. I enjoyed the idea of a mature sensuality as she rediscovers her own body.
How has shooting sex scenes changed? Do you use intimacy coordinators now?
No, I don't. As long as I'm not forced to, I won't use them. I don't think I need it. I'm extremely sensitive and pay lots of attention to the respect that the actors need to have for one another. I've never had any kind of problem. I've never forced any actor to do anything. Everything is discussed and happens in a very smooth way. So for me, intimacy coordinators aren't necessary. If I was forced to have some kind of virtue police on set, I'd rather not film those scenes. I understand why some people might feel reassured, but it's very far from the experience of my own film sets.
What would your father make of One Fine Morning, do you think?
He never got to see it and I cannot speak for him, but I can say that he was always very encouraging of my work. Very proud, I think. My father was a philosophy teacher but I always thought he should have been a writer. He had high standards, both morally and culturally. One thing he taught was the importance of clarity. As a film-maker, I'm always looking for clarity in my style. That really mattered to him and it's partly what made his disease so tragic, because Benson's syndrome destroys clarity of mind.
Was the process of making the film cathartic?
It certainly was. It's consoling to preserve certain memories… things that were said, moments that I might have forgotten otherwise. It's a way of remembering who my father was before he totally disappeared. His spirit slowly dimmed and faded away, but I'm glad I could capture those last moments of light. But actually, the most cathartic thing was turning a difficult, dark reality into something fun. Even though there were times when I got very emotional, I love my job. Ultimately it's like playing a game. A way to bring some distance. The title of my film, Un Beau Matin, is like the beginning of a fairytale. It becomes something pretend. It's almost childish, but most directors never really want to grow up. You see that in the films of Spielberg. Directors tend to be nostalgic and want to stay children for ever. The way I found was to turn my everyday life into some kind of fun.
Did it help you with your grief?
My father died during Covid. That period was tough for everybody, but losing somebody in those conditions was especially horrible. Many people, including me, weren't able to properly grieve. They weren't allowed to see the bodies of the people they loved. They were unable to hold their hands and say goodbye. The film helped me immensely to cope with that. It was a way to feel closer to him again.
How well does France support its film-makers?
In general, France is very supportive with directors. We shouldn't complain too much because there is a lot of state support. There is a strong culture of cinema here, especially arthouse cinema, but of course commercial cinema is gaining more power. There will always be a tug-of-war between that and the more independent, fragile, vulnerable arthouse films. I fear that arthouse cinema, even in France, is in danger, but it's a national treasure we need to preserve.
Your partner is a film-maker and you were previously in a relationship with director Olivier Assayas. Is it just easier to date fellow film-makers?
[Laughs] I guess it's stimulating for me to be in a couple with somebody who is also a passionate film lover. It's not a conscious choice, it's just happened that way. I love to have discussions, to share my doubts and fears with the person closest to me. I have faith in cinema as an art form, maybe the greatest art form. Living with somebody who has the same belief feels less lonely, you know?
What's the last film you saw?
Maybe this will sound surprising, but two or three days ago I watched [1927 silent romance] Sunrise by Murnau and loved it. I cried, but I cry easily. It was very powerful emotionally and the actress [Janet Gaynor] was incredible. She had an innocence and candour that is extremely modern.
Your 2014 feature, Eden, is perhaps the only good film about DJing. Do you still go out dancing?
You just pointed out a very painful thing about my life! Stop it! [Laughs] No, I don't go out dancing that much any more. I've moved out to Montreuil in the suburbs of Paris in order to have more space for my kids, and a garden. I'm increasingly shy when it comes to dancing. Nowadays I dance with my kids in the living room more than in nightclubs.
What music are you into now?
At the moment I'm listening to Handel, which probably has to do with the new film I'm working on. But Thomas Bangalter, formerly half of Daft Punk, releases a new album this week [Mythologies], so I'll be immersing myself in that. Apparently it's less electronic and more like contemporary classical, very different to what he's done before.
What can you tell us about the next film?
I'm only in the very early stages of writing, but it's a period film, set in England actually. Hopefully I'll make it in the UK. I can't say more than that; not because I'm secretive, but out of superstition.
You directed Tim Roth in Bergman Island. Are there other British actors you'd love to work with?
Robert Pattinson! He's a great actor, truly. But of course, there are tons of wonderful British actors.
How do you relax when you're not working?
That's the second time that you've pointed something very painful about my life! I'd love to have more time to relax. We're very busy, my boyfriend and I, working and taking care of the kids. If I had time, I would read more. To me, reading is like a holiday. I have many unread books waiting for me.
Source: Mia Hansen-Løve: 'I'd rather not film sex scenes than have virtue police on set' | Movies | The Guardian