The actress seemed to be protesting against the red carpet dress code at the film festival.
Now it seems Kristen Stewart, a member of this year's jury at the film festival, has flouted the ban on flat shoes – by instead going barefoot on the red carpet.
The Twilight actress wore black Louboutin heels as she arrived at the BlacKkKlansman premiere.
But before entering the screening of the Spike Lee film, she slipped off her shoes to walk up the stairs.
She was apparently not sanctioned for taking off her heels.
'You cannot ask me to wear heels'
Last year, Stewart – who's been known to wear trainers with dresses on the red carpet – spoke about the event's fashion rules.
"There's definitely a distinct dress code, right?" she told the Hollywood Reporter. "People get very upset if you don't wear heels or whatever.
"I feel like you can't ask people that any more – it's a given. If you're not asking guys to wear heels and a dress, you cannot ask me either."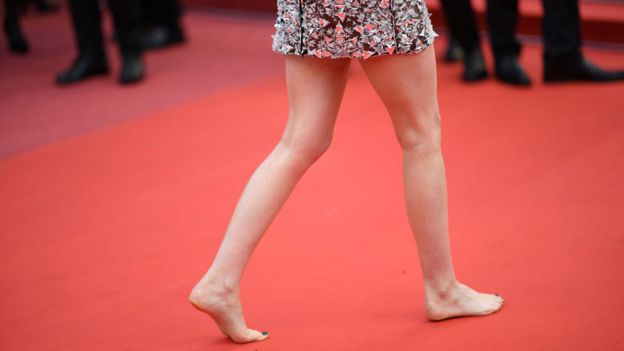 Source: Kristen Stewart ditches high heels to go barefoot at Cannes – BBC News