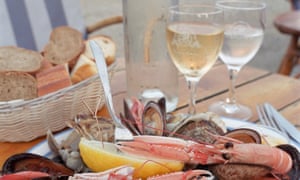 Domaine Félines-Jourdan Picpoul de Pinet, Languedoc, France 2017 (£8.50, The Wine Society) Picpoul de Pinet is never going to come off well in a comparison with some of the bigger French wine hitters. The dry, unoaked white wine from the western end of the Languedoc isn't the kind of thing anyone would buy to put in a cellar, or make a flashy fuss of ordering at a restaurant. The gap between the best and the worst examples isn't especially wide: a friend in the trade likes to say it all comes from one big tank. And yet, all of the above is somehow part of its attraction. It's there to do a job – match the seafood from the nearby Med and the Thau lagoon – without too much fuss. The picpoul grape variety's natural acid nip and breeziness combining with lemon, touches of leafy herb and, in the impeccable production from Félines-Jourdan, a swell of stone-fruity richness.
Pierre Luneau-Papin Folle Blanche, Pays Nantais, France 2017 (£9.95, Joseph Barnes)
The affinity with seafood has meant Picpoul de Pinet has inevitably drawn comparisons with the original French fruits de mer favourite made further north around the Loire estuary: Muscadet. For the most part, wines in this area are made from melon de bourgogne, and it is to the whites made from chardonnay in Burgundy's Chablis that the locals prefer their wines to be compared. Certainly that's a relevant point of departure with the family domaine Pierre Luneau Papin's classically steely Domaine de Verger Muscadet Sèvre et Maine Sur Lie 2016 (£12.99, Buon Vino). Curiously, however, the folle blanche takes us back to picpoul, the titular grape variety being a relation of the southern variety, although here making a much sharper but equally oyster-compatible dry white.
Château Lestrille Entre Deux Mers Blanc, Bordeaux, France 2017 (£12.12, Corking Wines)
There's a touch of the 1970s bistro wine list about muscadet. If you set that retro charm alongside its ability to stand in for chablis when smaller vintages in burgundy have led to shortages in supply, then you can begin to understand why muscadet has become a firm favourite for sommeliers working in some of the country's trendier restaurants. The same hasn't quite come to pass for another dry white favourite of yesteryear, Entre-Deux-Mers, although I have begun to see a few merchants giving this Bordeaux region's brisk spin on the sauvignon blanc-led blend another chance. Château Lestrille's version is super-clean and cleansing; Château Sainte-Marie Entre Deux Mers 2017 (£10.95, Great Western Wine) has a touch of custard-richness and tropical fruit to go with the zinginess.
Source: Three classic French whites that go perfectly with seafood | Food | The Guardian